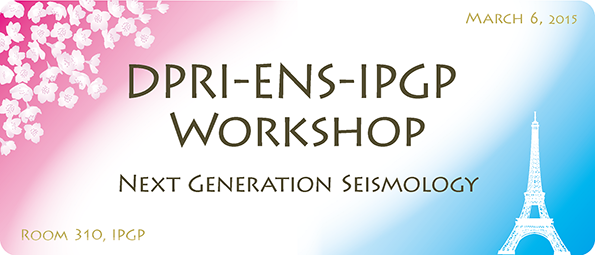 We are organizing the workshop related seismology between

&nbsp - Institut de Physique du Globe de Paris (IPGP),
&nbsp - École normale supérieure (ENS) in Paris, and
&nbsp - Disaster Prevention Research Institute (DPRI) in Kyoto university.

This workshop aims to share experiences and interests among scientists, network with institute representatives in the next generation, and discuss challenging problems in seismology. Everyone is welcome to attend.

Date
6 March 2015 (Fri) 10:00 - 17:00

Place
IPGP room 310, 1 Rue Jussieu, Paris (Google Map)

Registration
There is no cost to participants. Registration is not required.

Program
This workshop is funded by DPRI, Kyoto university.